Appalshop launched our Seedtime on the Cumberland festival in 1987, taking the name from Harriette Simpson Arnow's book of stories about earlier times in Eastern Kentucky.
The festival aimed to portray the depth and richness of our heritage and celebrate passing it on to new generations. Performers included both the "old masters" and young artists who had learned from them.
We held the festival in our theater until 1989, when Appalshop rented a big tent and made Seedtime a four-day celebration of our 20th birthday, giving it a permanent home under the largest net-metered renewable energy system in Eastern Kentucky in 2019.
For many years we sought out older artists whose work has defined our heritage like Ray Hicks, Etta Baker, and Wade Mainer. Morgan Sexton was a highlight of the early Seedtime years, hearing of the festival from his nephew Lee Sexton, whom he had taught to play banjo. After performing at Seedtime, Morgan went on to record an album on Appalshop's record label and star as the subject of an Appalshop film.
Morgan Sexton
Seedtime on the Cumberland, 1993
Walker Calhoun
Seedtime on the Cumberland, 1989
Etta Baker
Seedtime on the Cumberland, 1997
While some Seedtime artists are world-renowned, many more are celebrated in their own communities. We intentionally choose our performers based not on their commercial success but on their importance to our culture.
See More Performances
From the Seedtime on the Cumberland Festival Collection, Appalshop Archive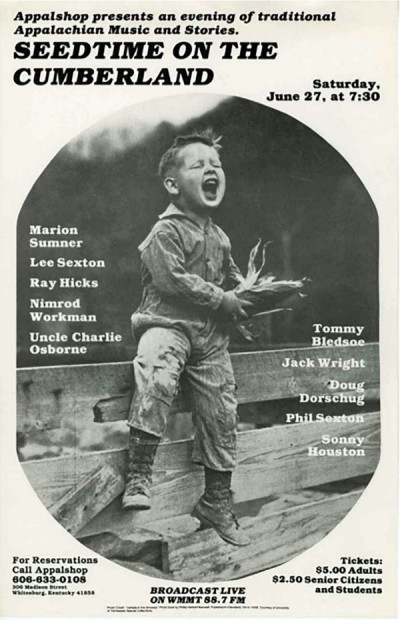 The work of Seedtime artists over the years has gone beyond their live appearances at the festival. Seedtime performances are broadcast live on Appalshop's radio station WMMT 88.7 FM to audiences in four Appalachian states, and streamed to the world online. The festival has provided material for three June Appal records and two national radio series. Each year, we invite you to join the celebration!
Interested in becoming a Seedtime sponsor?
Have questions about the festival?
Email [email protected]